Have you ever noticed a pre-installed app called 'com.android.mms' on your Android device? If so, then you may have been wondering why it's there and why keeps popping up on your phone. In this article, we'll take a look at what com android MMS is, what causes the error message, and how to fix it.
What Is Com.android.mms?
Com.android.mms is an app that allows Android users to send and receive text messages. The app is pre-installed on most Android devices and is located in the /system/app folder. Typically, the app is responsible for managing messages, including sending and receiving MMS messages.
What Causes Com Android MMS Error Message?
There are a few different causes of the com.android.mms error message on Android phones:
Improper configuration of APN settings: The Access Point Name (APN) configuration is critical to sending and receiving MMS messages. If the APN settings are incorrect, the phone will not be able to send or receive messages.
Insufficient memory: If you're trying to send a large MMS message but your phone does not have enough available memory for the message. You may receive this error message.
Outdated carrier settings: Your carrier may need to update its network settings in order for MMS messages to be sent and received properly. Check with your carrier for more information about any updates that may be necessary.
Incompatible software: Some devices may not be compatible with certain versions of Android OS or certain carriers' networks which can cause the com.android.mms error to appear when trying to send or receive an MMS message.
A corrupted MMS message: If you receive an MMS message that's corrupt or doesn't have all the necessary data, it can cause the com android MMS process to crash.
An incompatible app: If you're using an app that's not compatible with your version of Android, it can also cause the app process to crash.
How to Fix Com.android.mms Error Message on Your Phone?
If you've ever seen the 'com.android.mms' error message on your Android phone, you know how frustrating it can be. The good news is, there are a few things you can do to fix it.
First, try restarting your phone. If that doesn't work, try uninstalling and reinstalling the MMS app. Also, try clearing the cache and data for the app.
If none of those things work, you may need to factory reset your phone. Be sure to back up your data first!
Still, seeing the error? It's possible that your carrier is experiencing an outage or other issues. You can check their status page or follow the next solution to fix the problem.
1- Clear Cache and Data
One of the first solutions you should do is to clear the Android cache and data. This step will reset the MMS app and erase any corrupt data that may be causing the problem. Also, this step can fix many issues including the 'com.android.server.telecom' error message, app crashes, and incorrect app data. To do this:
Go to Settings.
Find Apps or Manage Applications.
Choose the System app and locate com.android.mms.
Click on Clear cache, then Clear data.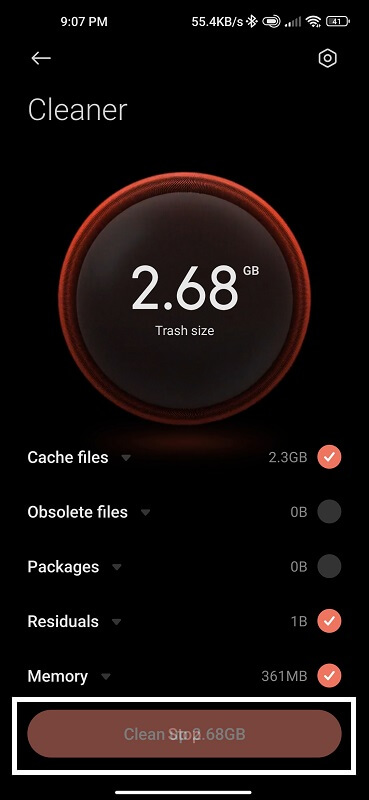 2- Reset the App Preference
It is easy to reset the 'com.android.mms' app preference on your android phone. Because it's likely that your MMS app is having trouble communicating with your carrier's servers. The best way to fix this problem is to reset the app preferences.
Locate the Settings menu.
Select Manage Applications.
Click on the three-dot icon in the upper right-hand corner.
Choose Reset App Preferences and click on the Reset button.
This will reset the app preferences for your MMS app and should fix the error message.
3- Force Stop the App
Another common method is to try to force stop the com android MMS. When you force-stop an app, it means that you are telling the Android system to completely kill the background process of the app. To do this:
Go to Settings.
Manage Applications.
All Applications.
Find the com.android.mms app.
Tap on it and then select 'Force Stop'.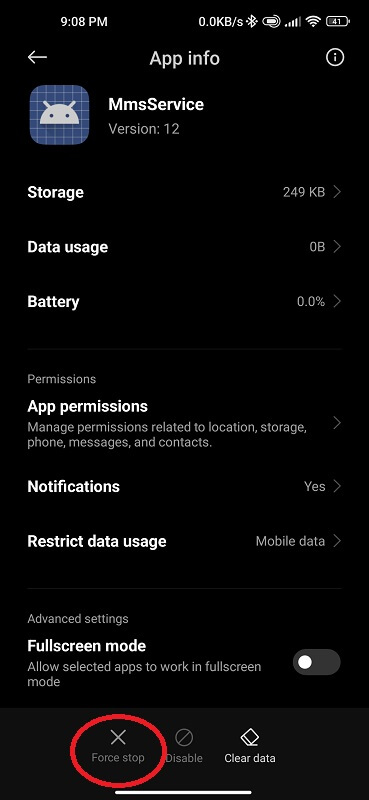 In most cases, this will temporarily fix the problem, but if the error persists, you may need to try one of the other solutions in this article.
4- Disable MMS App
If you're not using the default MMS app on your Android device. You may want to consider disabling the com android MMS app to fix the error message. However, disabling the app will not delete any of your messages or data. But, it will simply prevent the app from running in the background and taking up space on your phone. To disable the app:
Open your Settings app and go to "Apps".
Find the com.android.mms app in the list and click on it.
Click on the "Disable" button.
Tap "Yes" to confirm.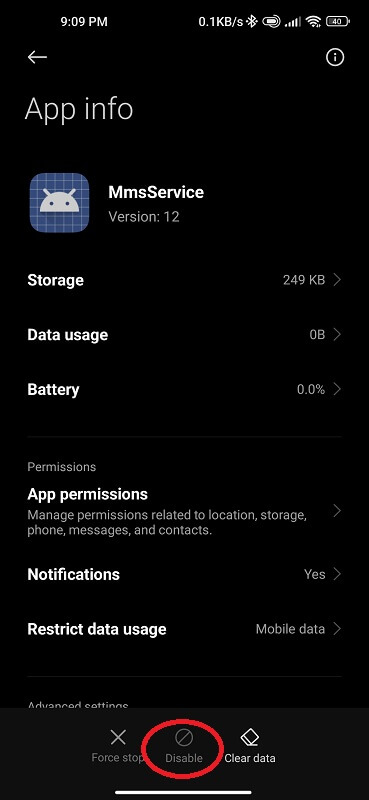 5- Update the System Software
The app may be broken if you're running an older version of Android. The process is actually pretty simple, and there are a couple of different ways that you can go about it. Here's how to update your android phone:
Open up the Settings app.
Scroll down to the bottom of the list and click on "About Phone" or "About Device".
Find the "Software Updates" or "System Updates" option and click on it.
If there is an update available for your device, you should see a message saying so. Tap on "Download" or "Install" to start the update process.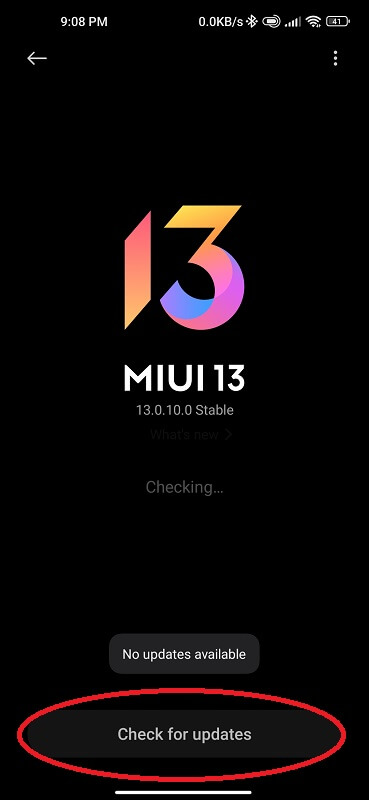 Depending on the size of the update and your internet speed, this could take a while. Once the update is finished installing. Restart your phone and you should fix the MMS error message!
6- Wipe Cache Partition
The last solution to fix the com.android.mms error message is to wipe the cache partition on your phone. However, this will clear out any corrupt files that may be causing the problem. To wipe the cache partition, follow these steps:
Turn off your phone.
Press and hold the Power button and Volume Up button at the same time.
Use the Volume buttons to navigate to the Wipe Cache Partition option and press the Power button to select it.
Confirm that you want to wipe the cache partition by selecting Yes using the Volume buttons and pressing the Power button to select it.
Your phone will now restart and should no longer display the MMS error message
Frequently Asked Questions
Is Com Android MMS Safe or Spyware?
Com.android.mms is part of the official messaging app for Android devices, which makes it safe and secure. Hence, the app does not contain any spyware or malicious code and there is no cause for concern when using this app.
Of course, it's always important to be aware of where your data is going. Therefore, we recommend that you check the permissions of any apps you install before downloading them to ensure that your privacy remains protected.
Can I Uninstall the MMS App?
Uninstalling the MMS app is not recommended as it could create issues with you sending and receiving text messages. However, if you would like to uninstall the MMS app, you can do so by going to your device's Settings > Apps > All Apps and selecting "Uninstall" from the menu.
Please note that doing this will also remove any default settings for messaging.
What Is the Difference Between SMS and MMS on Android?
SMS (short message service) and MMS (multimedia messaging service) are two types of messaging services available on Android devices.
SMS allows users to send and receive simple text messages, while MMS enables users to send and receive messages that include photos, videos, audio files, and more.
What Does 'com.android.mms' Mean When It Is in Your Google Activity?
Com android MMS refers to the messaging pre-installed application that is part of your Android phone. The app is like the carrier hub and mobile installer. This particular activity appears in your Google activity when you are using SMS, MMS, and other messaging services on your device.
It's a safe assumption if you're seeing com android MMS in your Google activity. Then you are using one of these messaging services.
Conclusion
The com.android.mms error is a common issue for Android users. As a result, there are solutions that can help get your device back up and running.
From clearing out the application's data to resetting the app preferences, these tips can help you fix any issues related to com android MMS error on your phone.
With these methods, you should be able to solve most of the problems associated with this app crash without needing professional assistance or further technical support from Google or Samsung directly!