Have you ever encountered the problem of Xiaomi not downloading the latest update? If yes, then this guide is for you! We will explain some of the common causes for the 'MIUI can t download update wait a minute or two' issue and provide 6 proven solutions to fix it.
So let's get started and find out how to solve this annoying problem!
Why Is the MIUI Update Not Downloading on My Xiaomi Device?
Before discussing the fixes that would help you update your Xiaomi to the latest version of MIUI. It's essential to understand why MIUI can t download updates.
However, there are a few reasons why this might happen, ranging from network issues to problems with the phone itself. There are several causes including:
Insufficient storage space: One of the most common reasons for this problem is insufficient storage space on your Mi phone. Insufficient space will prevent the update from downloading and installing. Make sure you have plenty of free space on your phone before attempting to download MIUI 13 or 14 updates.
Poor internet connection: Another common reason for updates failing to download is due to a poor internet connection. If your connection is slow or intermittent, it may not be able to download the update properly. Try connecting to a different Wi-Fi network or using a different mobile data network (e.g., 5G instead of 4G).
Incorrect settings: There are a few settings on your phone that need to be corrected in order to download and install the MIUI updates. Make sure the "Download over Wi-Fi only" option is Off in the Settings > More > About phone > System Updates menu. You should also have "Install system updates automatically" turned on in the same menu.
Corrupted system files: In some cases, system files on your phone may become corrupted, which can cause updates to fail.
How to Fix Xiaomi Update Not Downloading Issue?
Many Xiaomi users have reported that they are unable to download the latest MIUI 14 updates, either through the built-in updater or manually via the Mi Recovery tool.
Thankfully, there are many easy solutions you can try to fix the issue. In this section, we'll show you how to fix the "MIUI can't download update wait a minute or two" error. So that you can get your Xiaomi device up-to-date in no time.
Clear Cache and Data for the Updater App
It is very common for the Updater app to get stuck while downloading updates. The first thing you should do is clear the cache and data of the Updater app. This will usually fix the problem and allow the app to continue downloading updates.
Go to Settings > Apps or show System Apps > Updater app.
Click on the "Clear Cache" and "Clear Data" buttons.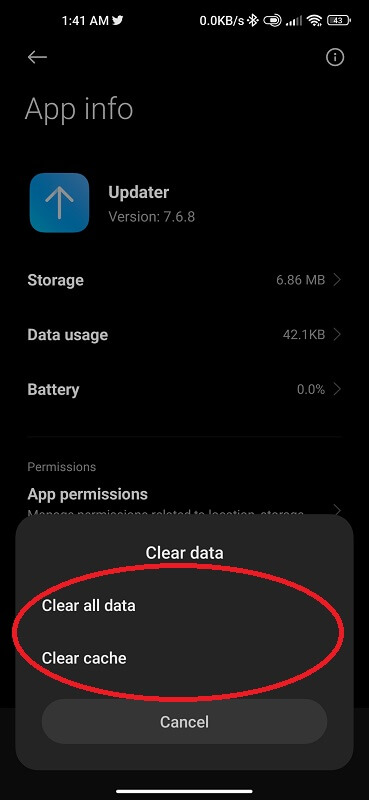 Once you have cleared the cache and data of the Updater app, try updating again and see if it works.
Reset Network Settings
The second classic solution you should try is resetting your network settings. This will clear out any stored data that could be causing the Mi download update issue. To reset your network settings:
Go to Settings.
Locate Reset Network Settings.
Enter your PIN code when prompted.
Tap Reset Network Settings.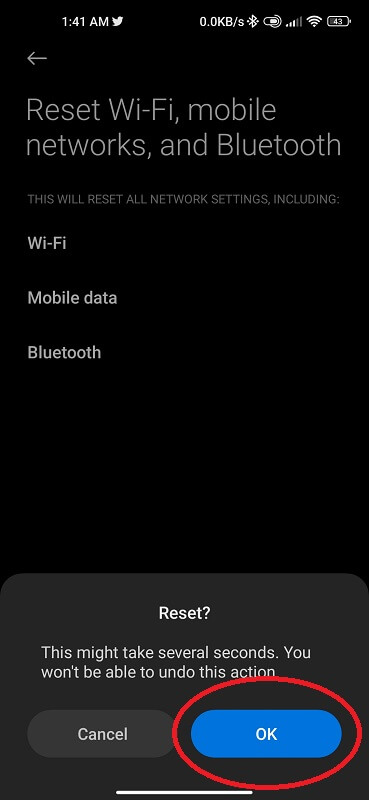 Once the process is complete, restart your phone and try downloading the MIUI 13 or 14 update again.
Restart Your Phone
Restarting your phone shuts down all unnecessary apps and processes, and also can help you fix your Xiaomi phone that won't download the MIUI update, which ends with a "wait a minute or two and try again" error message.
However, it's worth trying before taking any further steps. To restart your Xiaomi phone:
Hold down the power button for a few seconds.
Select the "Restart" option.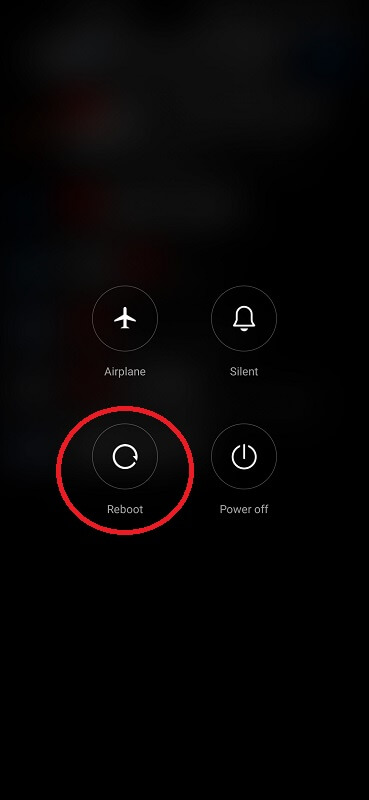 Once your phone has rebooted, try checking for updates again. If this doesn't work, move on to the next solution.
Check Your Internet Connection
An alternative method to download Xiaomi updates is to make sure you're connected to a strong and stable network.
A weak or unstable connection can often lead to MIUI can t download an update wait a minute or two error.
Once you've confirmed your internet connection is good. Try restarting your Xiaomi device and then attempting to download the update again.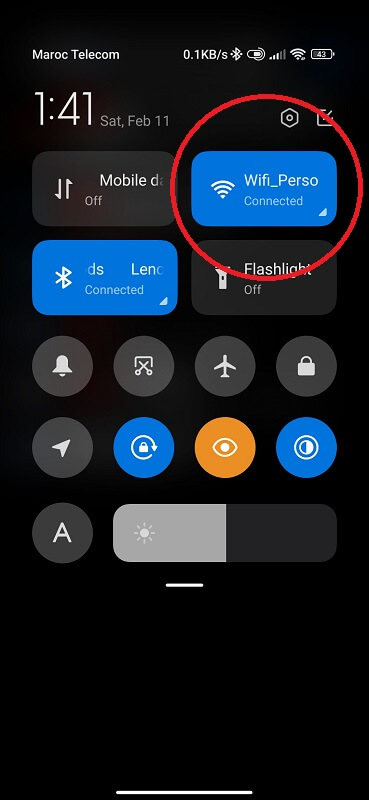 Uninstall the Recent Updates
Uninstalling the recent updates on Xiaomi can help you fix many problems including system instability, data loss, app has stopped and performance issues. If you are having trouble downloading updates for your Xiaomi. Then the best solution is to uninstall any recent updates that have been installed. To do this:
Go to Settings.
Select Apps or Manage apps.
Find the app that represents the most recent update. Click on it and then choose Uninstall.
Confirm the uninstallation and then try downloading the update again.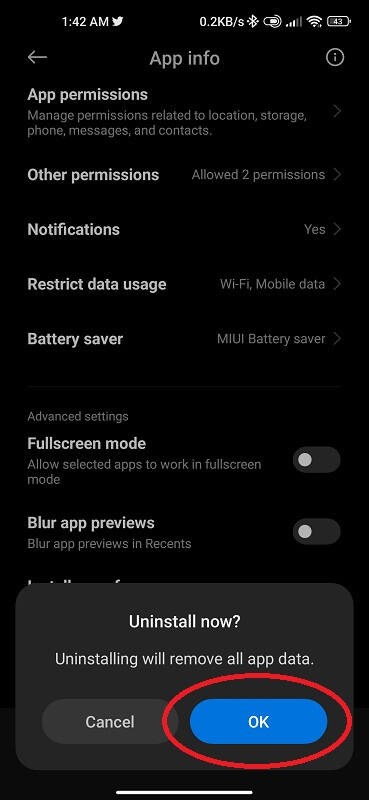 Factory Reset Your Phone
If your phone is still having trouble downloading updates. The last solution you can try is resetting your phone to its factory settings.
This solution will delete all the data on your phone, so be sure to back up any important files first. To do a factory reset:
Go to your Mi Settings app.
Tap on "System." Then, scroll down and tap on "Reset."
Select "Factory Reset.
Scroll down and tap Erase all data.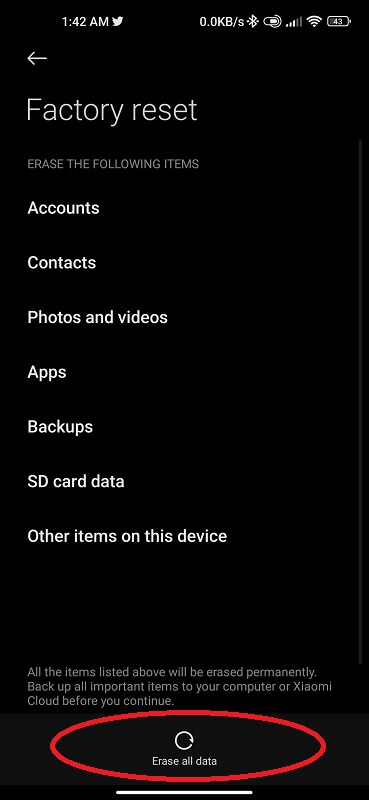 After your phone finishes resetting, it should be able to fix Xiaomi not downloading the MIUI update.
Last Words
Xiaomi update not downloading issue can be frustrating. But thankfully there are some proven solutions that you can use to fix the problem. Whether it is clearing the cache or switching from Wi-Fi to mobile data connection, these tips should help you get your Xiaomi device up and running with the latest updates in no time.
We hope this article has been able to provide you with all the information needed for fixing the MIUI can t download the update wait a minute or two error. If none of these solutions work for you, then feel free to contact a professional who may be able to diagnose and repair any underlying problems your device may have.